Nutifood, one of Vietnam's leading manufacturers of dairy products and baby food, announced Wednesday that it has completed its first-stage enterprise resource planning (ERP) process, recording a productivity growth of 15%.
Speaking at a press briefing in Ho Chi Minh City, Nutifood CEO Tran Thi Le said the ERP process, which uses Oracle software, helps her corporation save time by 30%.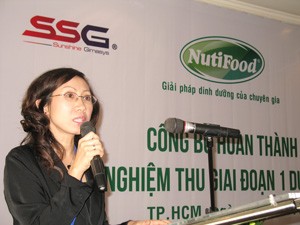 Nutifood CEO Tran Thi Le announces her corporation's completion of its first-stage ERP process at a press briefing in Ho Chi Minh City on Jan. 19, 2011 (Photo: Tuong Thuy)
The first stage was carried out for six months.
Other benefits include reduction of paperwork, better database of customers, enhanced inventory management, and quick access to business information, she added.
The software product used for the process is the Oracle E-Business Suite Release 12.1.2., according to Mr. Suraj Pai, senior director, sales for commercial accounts in ASEAN and South Asia, Oracle.
"With the Oracle E-Business Suite, we are confident that Nutifood will be able to improve and optimize their business processes within the organization to enable them to provide the best products to their customers," he said.
Nutifood previously did not have any specific software to manage their system and used an in-house developed system based on excel spreadsheets, according to the corporation's CEO Le. She said as business expanded too fast, the systems did not provide an integrated view of operations required for efficient operations and effective decision-making.
Ms. Le added that after assessing its primary requirements and evaluating solutions available in the market, Nutifood decided to select the Oracle software product to implement its ERP process. She also said the cost "is reasonable compared with that of other international leading software providers."
"This implementation provides us with the ability to increase our productivity and maximize efficiency across the company and in turn, delivering what our customers expect from us."
Vietnamese company Hong Quang, whose English name is Sunshine Gimasys JSC, a partner of Oracle, has worked with Nutifood in the ERP process.

"Our years of experience implementing Oracle software have helped us successfully complete this project in merely six months," said Sunshine Gymasys president Lam Quang Nam.
Nutifood was established in March 2000 and has become a top dairy producer in Vietnam.