Vietnam's October exports were just 86.2 percent of what they were in the same period last year, the Ministry of Industry and Trade said.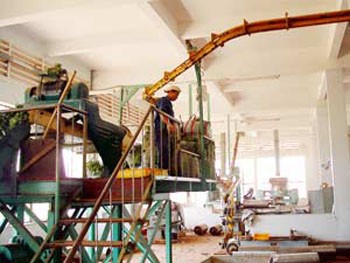 Minh Rong Company in Lam Dong Province processes tea for export.

Tea is one of the few exports that saw an increase in October

(Photo: SGGP)
Exports for the month accounted for US$4.57 billion bringing the total turnover so far this year to $46.3 billion.
Exports of fruits and vegetables rose by 6.4 percent while cassava products saw an increase of 59.6 percent.
Metal and precious stone exports surged by 269.3 percent and tea by 14.3 percent.
Exports of key items like seafood, crude oil, and garments and textiles, were lower than last year.
Imports, meanwhile, reached $6.65 billion in October and $55.2 billion in the first 10 months of the year.
Commodities seeing the highest import value were petrol at $600 million, and iron and steel at $550 million.
Computers and electronic components followed with $400 million and cars with $360 million.
The trade deficit in October was $1.9 billion and $8.78 billion in the first 10 months of the year.