A court on Friday sentenced Huynh Ngoc Si, also accused by Japan-based Pacific Consultants International (PCI) for bribery, to three years in prison for misappropriating rent from letting out a State-owned house.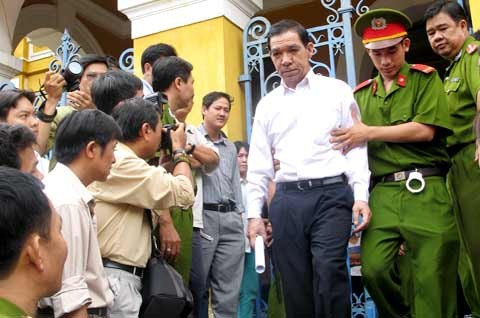 Huynh Ngoc Si (in white) leaves the court-room on Sep. 25, 2009
According to the verdict, Huynh Ngoc Si, former head of the management board of the East-West Highway and Water Environment Project, rented a house on Nguyen Thi Dieu, District 3, HCMC, at VND2 million (US$110) per month.
He and his deputy, Le Qua, took advantage and let the house to PCI at a rent of $5,000 per month and officially declared $2,500 in the contract.
Both of the men pocketed the difference and shared the remaining amount to board staff.
Huynh Ngoc Si pocketed VND52 million and Le Qua VND54 million.
The verdict said that Huynh Ngoc Si played an important role in the decision for renting the house and using the money.
"The action of the accused must be strictly punished," said the verdict.

The two, along with other officials, who stole the money, returned VND1.1 billion to investigators.
The two have been in custody since February on suspicion they also took bribes to award the consultancy contract to PCI.
When the allegations surfaced, the Japanese government suspended ODA to Vietnam until the Vietnamese government launched an investigation.
Japan resumed assistance in March.
PCI officials told a Japanese court they had paid Si a bribe of $820,000.