Representatives of over 100 foreign companies in southern Viet Nam asked about labor issues at a Wednesday meeting with officials of the Federation of Labor Unions of Viet Nam and the Vietnam Chamber of Commerce and Industry (VCCI)
The two State organizations had sent just 60 invitation letters to foreign companies in Dong Nai, Binh Duong and Ho Chi Minh City, but the number of participants at the meeting in Binh Duong Province surprised the organizers.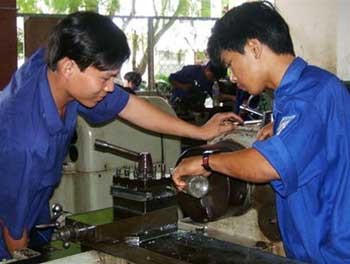 Vietnamese employees at work
Many participants raised questions about working overtime, saying that both employers and employees want this as it helps employers meet the delivery deadline and workers earn more.
However, Mr. Nguyen Hoa Binh, vice chairman of the federation of labor unions, answered that the labor law must be observed. "The law limits overtime working to ensure workers' health."
Mr. Binh also helped representatives of the foreign companies understand more about such issues as the minimum salary and the reason for not sacking pregnant women and nursing mothers.
He stressed that employers and State agencies should cooperate and support each other in solving labor problems. He said employees' interests go hand in hand with companies' benefits and development, so protecting workers' interests means protecting companies'.
He added that his organization and VCCI have worked together in many years to collect employers' relevant ideas and proposals to authorized State agencies.
Mr. Nguyen Van Nam, chairman of the Binh Duong Province Association of Labor Unions, told the participants that his agency welcomes all questions from companies facing labor problems.