Viet Nam Oil and Gas Corporation (Petrovietnam) has planned to mobilize about US$176 million to invest in oil and gas development projects in 2006.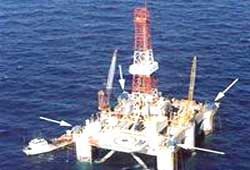 Photo: SGGP
The capital will be invested in certain major projects. For the Ca Mau Gas – Power- Fertilizer project, the gas pipeline will be completed and given a trial run in June 2006. The power plant will be given a trial run in December 2006 and electricity will be generated together with the national power network on the first quarter of 2007.
To guarantee this rate of progress, the project will need US$616 million in 2006, of which US$13 million will come from the State budget and the remaining amount will have to be from loans. In addition, PetroVietnam will continue to develop contracts on the Dung Quat Refinery project which were signed in 2005. The capital for this project is about US$813 million, including US$120 million from the State budget and the remaining from the loans.