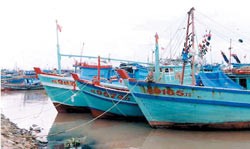 Fishing boats will restart offshore trips due to oil prices dropping
In line with global crude oil prices dropping, the good news is that petrol retail prices will decrease VND1,000 per liter.
After last month's increase, petrol retail prices will drop VND1,000 per liter, compared to the prices regulated in August 9's Decision 41/2006/QD-BTC.
Deputy Minister of Trade Phan The Rue announced the good news during an unscheduled press meeting Tuesday.
Accordingly, petrol A92 will be VND11,000 per liter, A90 VND10,800 and A83 VND11,600.
The deputy minister also said that the world's crude oil price has been fluctuating downward since August 31, currently standing at USD65-67 a barrel. This is the basic reason for the ministry's adjustment of oil prices. However, with the prices of kerosene and diesel being still high, businesses trading these goods are suffering losses despite the zero import tax which has kept their prices unchanged.
Mr. Rue still believes that there is no hope that the world's crude oil prices remain low, as they can increase at any time. With new prices, oil trading businesses are still making a profit of VND650 a liter, compensating for lost time and balancing the year's business performance.
Together with the price adjustment, the ministry will increase the import tax on oil to 10% from 5%.
Related Articles:
Petrol Import Tariff Rate To Increase