Disappearances of cashews for export from international shipping containers continue to plague exporters, posing a threat to their businesses, said the Viet Nam Cashew Association (VINACAS).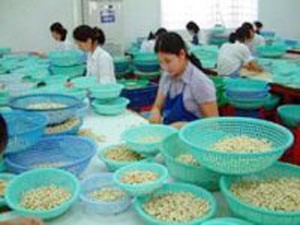 Workers in a cashew processing factory

Recent reports from the association say Tan Hoa Co., Ltd., and Huynh Minh Co., Ltd., of Tay Ninh province and HCMC were the latest victims of export cashew thefts.
December 2, 700 boxes of cashews were supposed to be sent to Tan Hoa's foreign client but only 210 boxes reached their destination; 490 boxes mysteriously disappeared.

Huynh Minh also reported similar cashew thefts, but to a lesser amount, according to a report from a client on January 3.

To observers' surprise, VINACAS Acting Chairman Nguyen Duc Thanh revealed such mysterious disappearances have in fact been going on for the last decade or so, with total losses estimated at some VND10 billion (US$625,000).
Thieves are said to have been most active last year when six cases were reported with a total loss of some US$375,000.

Most cases are discovered by foreign clients after receiving the nuts, with containers appearing intact and properly sealed from outside in all cases.

According to Thanh, most thefts occurred during trips from warehouses to the ports, suggesting the work of professional thieves with inside help.

VINACAS Acting Chairman Thanh has called on the Ministry of Public Security to form an investigation team to hunt down the culprits.

Related article:
20 Tons of Cashews Bound for Egypt Mysteriously Disappears