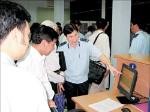 At a customs office in Ho Chi Minh City
In a two-month trial period for online customs declaration, 27 companies took part and the  total value of export and import contracts reached US$106 million , said Nguyen Thanh Long, deputy chief of the bureau's online customs division.
The export contracts valued US$43.6 million and the import contracts went to US$62.4 million. The total tax is VND182 billion," he said.
As usual, there are three ways for customs officers to check goods. The first is no check, and this way is called the green passage. In the second way, called the yellow passage, goods are passed before check of documents; and check of goods and documents before goods are passed – this way is called the red passage.
In the trial period, it took 3-10 minutes for goods to go through the green passage, 20-30 minutes for the yellow passage, and 1-3 hours for the red passage.
Now, the Ho Chi Minh City Customs Bureau expects more companies to take part in online customs declaration, Long said.
Such customs declaration is now applied for goods under export and import contracts at the city's ports. The bureau plans to expand this service in early 2006 to Tan Son Nhat International Airport, export processing zones Tan Thuan and Linh Trung, and for other contracts.
The bureau is waiting for a nod from the country's General Department of Customs to carry out the plans, which are expected to attract more than 500 companies to participate.
The bureau's representatives say they now need permission from the HCM City People's Committee to set up a virtual system to ensure smooth online customs declaration.
The bureau is using a software program written by FPT for this declaration. At present the company and the General Department of Customs are working together to improve this software.
The bureau is also working to upgrade the whole system to prepare for the time when much more companies will carry out customs formalities online.
Do Dinh Thuc, deputy chief of the bureau, said this preparation needs cooperation from State agencies like the tax office, the State Treasury, the police and the Ho Chi Minh City Service of Planning and Department.
Online declaration is expected to help reduce burden of paperwork for both customs officers and companies, thus saving time, money, and labor. In November 2005, the bureau selected additional 33 companies for e-customs and six of them have been recognized in terms of financial transparency. Fifteen other companies are waiting for this recognition from the tax office while the others have yet to prepare for this recognition because of different reasons.
From January 2006, online customs declaration will be applied in other cities and provinces besides Ho Chi Minh City.
Translated by Tuong Thuy