Farmers in the Mekong delta regretted because they have no more fruits such as orange, tangerine, and grapefruit to sell while the price of these fruits hiked and they have become best selling.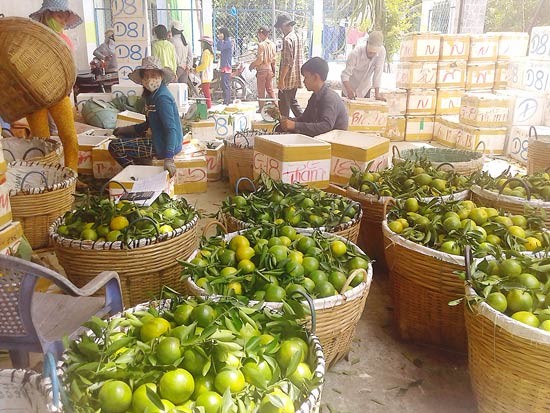 Traders buy tangerine in Lai Vung District of Dong Thap Province (Photo: SGGP)
Farmer Pham Van Lanh in Dong Thap Province's Lai Vung District is unexpected that prices of tangerine increase because in the end of April he sold over two tons of the fruit at VND28,000 per kilogram which he thought that the price was high but a few days later,it soared to VND36,000 per kilogram.
Farmer Lam Van Khoe in the same district said that traders paid VND36,000-VND40,000 for one kilogram of tangerine, much higher than the price during Tet holidays (Lunar New Year). With such price, farmers could earn much profit yet very a few farmers have the fruits left.
In provinces Tien Giang, Vinh Long and Dong Thap, the price of orange also leaped drastically. For instance, xoan orange increased to VND48,000-VND50,000 a kilogram; mat orange at VND40,000 while other kind sanh orange at VND32,000-VND35,000.
Farmer Ho Thi Be in Soc Trang Province's Ke Sach district disappointed because she sold nine tons of grapefruit last week collecting VND470 million (US$21,000) yet currently, the fruit costs over VND60,000 a kilogram. Another kind of good grapefruit being sold like hot cakes is Nam Roi at VND40,000 a kilogram ensuring high profit for farmers.
Because severe drought and salinity penetrated the Mekong delta badly affecting orchard and productivity and people intended to drink and eat the fruit in hot weather; accordingly the price of them leaped. Worse, some contracts for these fruit export were cancelled because farmers have no more fruits to sell to exporters.
It is forecast that prices of these fruits will continue to be high in the next time.