According to Deputy Director of Bac Giang Department of Industry and Trade Dao Xuan Cuong, the lychee crop this year is expected to last only in 10-15 days and ended on June 25, the total number of lychee consumed in Bac Giang province was 183,836 tons.
Most of the lychee have been consumed in the domestic market, but thanks to efforts of traders, enterprises, this year the fruit has been exported to more than 30 countries and territories with major markets such as the EU, Russia, the US, Canada, China, Japan, South Korea, Singapore, Thailand, Australia ...
The China market still remains the largest market of lychee.
Mr Cuong said that according to statistics at the border gates, up to June 25 the volume of lychee transported through the border gates in Lang Son province such as Tan Thanh and Coc Nam was about 45,000 tons; export through Lao Cai border gate reached about 33,500 tons; through Thanh Thuy gate (Ha Giang) about 3,000 tons; through the international border gate Mong Cai (Quang Ninh) about 5,000 tons.
Thus, the total output of lychee exported through the gates to the Chinese market was about 86,500 tons. The remaining about 500 tons was exported to other markets.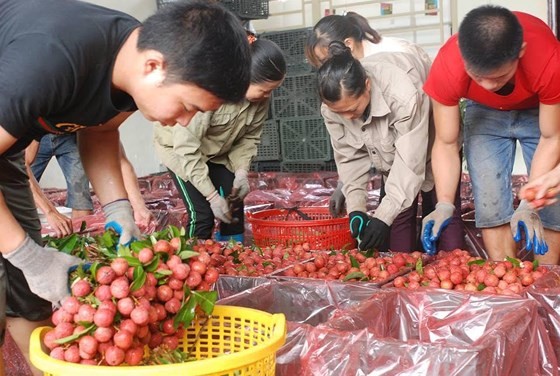 As of June 25, 178 Chinese merchants went to Bac Giang to coordinate with Vietnamese traders to set up their own weighing stations and collect lychees for export to China. The number of stations across the province is over 500, mainly in Luc Ngan district (more than 394).
Prices of lychees were stable, according to the report. The selling price on the June 25 (at the end of the crop) ranged from VND 5,000 to 25,000 per kg, depending on the quality and high quality lychees were sold at VND 35,000 to 40,000 per kg.