Over 70 percent of 230,000 tons of tra catfish bred in An Giang Province last year satisfied international food hygiene and safety standards, said An Giang Fishery Association (AFA) Chairman Phan Van Danh.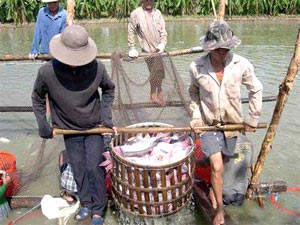 Over 70 percent of tra catfish bred in An Giang Province last year satisfy international hygiene standards
Catfish breeders in the province were instructed in hygiene and breeding techniques and the consequent improvements they made have allowed them to now sell their fish at a relatively high VND2,500-3,000 per kilogram.
 
An Giang's three major fishery companies have established unions to provide consumers with clean, high-quality fish.
They are the Agifish Pure-Pangasius Union of An Giang (APPU), established by An Giang Fisheries Import & Export JS Company, Navico Clean Fish Farming Association of Nam Hoi Corporation, and Afiex Clean Fish Production Association of the An Giang Agriculture and Food Import – Export Company.
 
Other companies like Viet An, Cuu Long and Afasco are also studying and applying safe fish breeding processes under SQF 1000CM, GAP and Eurep Gap standards.
An Giang earned US$335 million from catfish exports last year.
 
The demand for tra catfish is so high this year that several Mekong Delta provinces are building or upgrading export-processing factories.
Five plants are under construction in An Giang and expected to come into operation this year, raising the province's processing capacity to 400,000 tons per annum, double last year.
 
Five more factories are also to be built in nearby Dong Thap Province, with a total processing capacity of 100,000 tons of tra catfish per year.