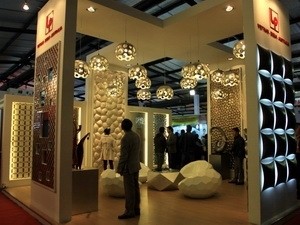 Vietnam News Agency file photo of a booth at a Vietbuild exhibition
More than 800 domestic and foreign businesses will take part in the International Exhibition of Construction, Building Materials, Housing and Interior Decor (Vietbuild), in Ho Chi Minh City on July 2-6.
The 2,100-stand exhibition will jointly held by the Information Centre, the Ministry of Construction and AFC International Exhibition Joint Stock Company, the organizing board told a press briefing on June 24.
Vietbuild 2011 will see the largest amount of registered participants, said Pham Van Bien, head of the board, adding that apart from domestic businesses, the event will draw more than 160 enterprises from 22 countries and territories around the world.
This year, the exposition will see an improvement in both scale and quality of participating companies, according to the organizing board.
The exhibition is expected to offer a chance for businesses to explore markets and promote their business plans, they said.
Within the framework of the event, there will be 15 themed seminars introducing new construction technologies and a ceremony to honor outstanding construction businesses.