Ministry of Planning and Investment in collaboration with the Central Highlands Steering Committee and the People's Committee of Dak Lak province yesterday organized the fourth conference on investment promotion for the Central Highlands City of Buon Ma Thuot.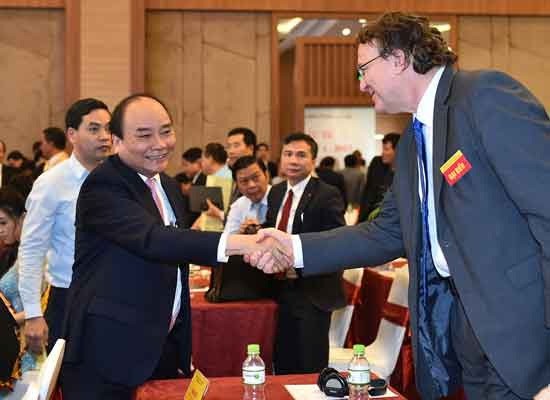 PM Nguyen Xuan Phuc attends the conference
Vietnamese Prime Minister (PM) Nguyen Xuan Phuc, more than 500 investors, domestic and foreign enterprises attended in the event.
This year's conference attracted 36 investment projects with total capital up to over VND 29,000 billion.
The locality covers 2 million hectares of agricultural land; 3.35 million hectares of forestland and industrial, food crop production and livestock farming.
In recent years, the province's agricultural land has been used for planting pepper, coffee, rubber, cashew, maize, rice accounting for the largest rate over total planting and agricultural land area.
Meanwhile, pepper and coffee cultivation have affirmed the position in the world market. Coffee tree occupied the most cultivation area in Vietnam and rubber has rapidly grown since the implementation of the policy of moving poor forests for rubber plantation in 2008.
According to the Steering Committee, the locality called on the large number of investment source for socio- economic development and security & defense for the period of 2001- 2016.
In the period of 2011- 2015, investment capital in the Central Highlands region highly increased at VND 265.7 trillion. Last year, total investment capital reached at VND 78.7 trillion.
Speaking at the conference, PM Nguyen Xuan Phuc stressed that this is a precious chance to share the vision on development strategy, policies and necessary solutions to attract investment and boost regional socio- economic development.
The Central Highland has a special important strategic position for national socio-economic development, defense and security; particularly in the development of Vietnam-Laos-Cambodia triangle.
At this conference, branches of Commercial Banks in the Central Highlands such as BIDV, LienvietPostBank, Agribank and Viettinbank signed credit contracts for 36 investment projects in the fields of hydropower, high-tech agriculture, and farm product worth over VND 29,000 billion.
The organization board handed over certifications for investment projects in the Central Highlands region on this occasion.