Mr. Vo Hung Dung, director of the Vietnam Chamber of Commerce and Industry (VCCI) in Can Tho City, said that China is one of the new markets. Export to this market accounted for 6.4 percent in 2014 and hiked to 10.3 percent in 2015, 17.8 percent in 2016 and 20.5 percent in the first half this year. It is forecast to outstrip the US to become the leading import market of Vietnamese pangasius fish.
Export to China has been advantageous as the country has opened door for the official import of Vietnamese pangasius fish besides unofficial cross border trade. Experts said that businesses should have positive solutions to harmonize the two export channels to prevent unhealthy competition from affecting each other, said chairman of Vietnam Pangasius Fish Association Duong Nghia Quoc.
For a long time, Vietnam has mainly exported pangasius fillet products while China has imported the whole fish to process into many dishes.
Although export to the US and EU has faced many difficulties and challenges. They account for 30 percent of Vietnam's pangasius export market share. So businesses should be patient to seek ways to keep the two markets.
According to Vietnam Seafood Exporters and Producers Association (VASEP), at present 14 Vietnamese businesses are exporting pangasius fish to the US. Of them, three have large export volume and value.
Forecasting difficulties in the US market, businesses have managed to expand their market to Mexico, Brazil and Colombia where export value has increased over 31 percent, 46 percent and 16 percent over the same period last year.
In addition, Saudi Arabia has posted a year on year increase of nearly 13 percent. VASEP expected that these markets will continue bringing value growth in the last two quarters this year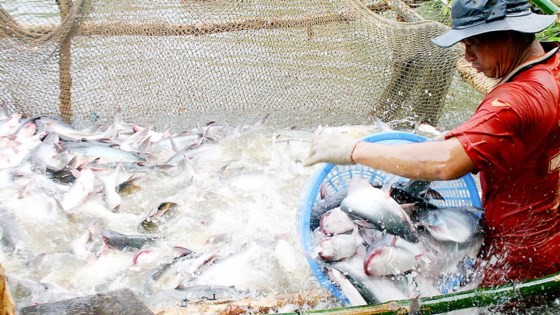 Farmers havest pangaius fish in the Mekong Delta (Photo: SGGP)
VASEP said that in the upcoming time the association will focus on developing both domestic and foreign markets.
Vietnam Pangasius Fish Association said that the Mekong Delta harvested 2,120 hectares of pangasius fish in mid-August with the output of 650,000 tons. Dong Thap was the largest producer with 271,500 tons, followed by Ben Tre with 107,500 tons.
Pangasius fish price was stable and high at VND24,000-27,000 a kilogram in early this year. It has reduced but still been high approximating VND23,000 a kilogram, bringing farmers a profit of VND4,000 a kilogram. The fish price has been most stable and maintained the highest level for the last five years in the Mekong Delta.
Export turnover has reached $850 million this year, a year on year increase of 6 percent.