Price of Pangasius fish has continued to drop in the Mekong Delta to a low VND22,000-23,000 per kilogram, causing much anguish to breeders who will be faced with substantial losses or even bankruptcy.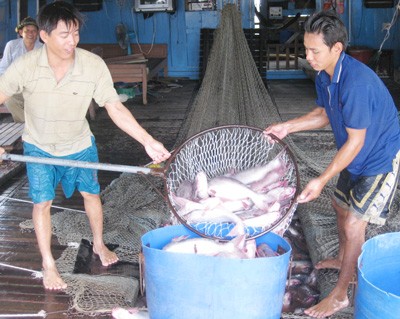 Pangasius fish prices have dropped in the Mekong Delta (Photo: SGGP)
Breeders in Vinh Long, Tien Giang and Dong Thap Provinces and Can Tho City said that with such low prices they would suffer losses of VND1,000-1,500 a kilogram.
Nguyen Khac Phuc, from Hong Ngu town of Dong Thap Province, said that they were very happy two months back when the price had increased to VND27,000-28,000 per kilogram. However, after peaking at that price it began to fall, which at present is a matter of grave concern to several households.
Phuc has 5,000 tonnes of fish still left to be harvested. By selling at the current price he will suffer a loss of VND1,500 a kilogram. As a result, Phuc has reduced the quantity of fish feed every day to extend the breeding time, hoping the price will go up.
Nguyen Van Dung, from O Mon District of Can Tho City, said that he still has 1,000 tonnes of unsold fish in stock and is waiting for the price to go up. Every day, it is costing him VND170 million (US$8,000) to feed them.
Dung says that after selling this batch of fish, he intends to clear all his debts and quit fish breeding, as it is very risky business.
The Departments of Agriculture and Rural Development in the Mekong Delta Provinces have expressed concern over several Pangasius breeders going bankrupt or even discontinuing fish breeding altogether seeing the prevailing conditions.