There is a paradox trend in commercial banks that while interest on gold bullion is plummeting, that for Vietnam currency is still increasing despite the State Bank of Vietnam's regulation for lowering cap on interest rate.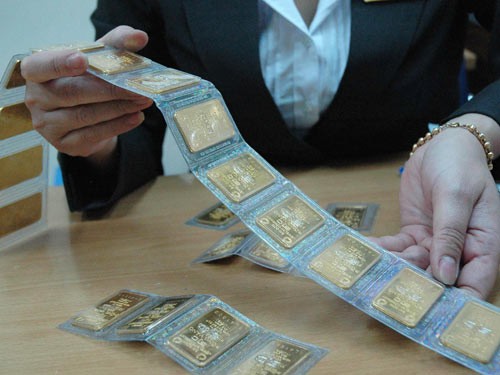 Coomercial banks decrease interest rate on gold bullion keeping
Governor Nguyen Van Binh of State Bank of Vietnam, said at a National Assembly Session that the ceiling set on deposit interest rates will be lowered to 9 percent starting June 11.
Phuong Tay Bank (Western Bank) on June 14 announced that the rate stands at 14 percent a year for deposits of 13-month term, and 13 percent for a 12-month term and 12 percent for 18, 24 and 36-month terms.
While Asia Commercial Bank and Saigon Commercial Bank set the interest cap at 12 percent for a 12-month term, Western Bank has raised it to 13.5 per cent
The Central Bank also officially stipulated the lending rate cap for four preferential sectors including small and medium-sized enterprises, businesses operating in supporting industry, exports and the agriculture sectors.
The State Bank of Vietnam decided that commercial banks must absolutely end capital mobilization and lend in gold since November 25, and many commercial banks decreased interest for mobilizing gold deposits or issuing gold certificates for fixed terms.
Previously, some banks had mobilized gold deposits or issued gold certificates or launched the "gold keeping service," in which depositors will receive high dividends of up to 3 percent as a disguised form of attracting gold deposits.
But now some of them stopped mobilizing the precious metal, while others lowered the interest rate. For instance, the bank which offers the highest interest rate for gold deposits is the Saigon Bank. An officer of the bank said that depositors would get even 4.5 percent for deposits from 3 months to 364 days. But currently, it stands at 2.7 percent per annum for  fixed terms of 1-11 months.
Nam A Bank also decreased interest rate from 3.6 percent per annum to 2 percent.
Sacombank dropped interest rate sharply from 3.5 percent to 0.5 percent for a fixed 1, 2, 3 month term while it is only 0.1 percent for a 6-month term. Asia Commercial Bank followed suit. It downed the interest rate for keeping gold to 0.8 per cent and deleted preferential policies for deposits above 10 taels.