While the supply of cement has been forecast to soar above demand this year, provoking producers to seek importers in an effort to sell their stocks urgently, the southern market has seen a sharp hike in the price of cement.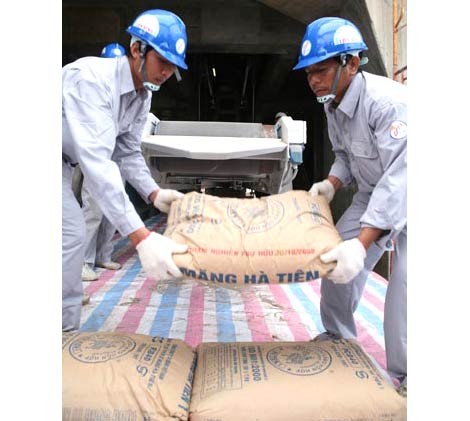 Workers package cement at a factory of Ha Tien Cement Company (Photo: SGGP)
Stagnated construction projects in the south due to the ongoing rainy season beginning in early August has affected the consumption of building materials, which are down 20-30 percent.
 
However, the paradox is that prices of construction materials including steel, sand, stone and cement have soared by 10-30 percent.
 
Depending on brands, a bag of cement has increased by VND5,000-7,000 (US$0.26-0.37) when it reaches consumers.
 
There is a rumor that distributors have joined hands to raise the cement price.
 
Some construction companies said they have had to spend more money on construction materials since late July because the cement price suddenly surged by VND5,000 per bag.
 
The price continues increasing at construction material shops closer to the center of Ho Chi Minh City. For instance, a bag of Ha Tien 1 cement has fluctuated between VND69,000 and 72,000 between shops all over the city.
 
Southeastern and southwestern provinces have also seen a rise in cement prices.
 
In these provinces, the cement price has been raised to over VND70,000 a bag and sometimes there has not been adequate supplies, causing worries for construction companies.
 
Hoang Van Tien, director of Hoang Long Construction and Trade Company in Vinh Long Province, said many southern areas have seen cement shortages of this month.
 
The dearth has led to a rise in cement price; and cement, most of which is produced by Holcim and Ha Tien, has still sold like hot cakes, despite going for VND71,000-72,000 a bag, he added.
 
The situation is unreasonable with cement prices being higher in southern provinces than in HCMC, as cement distributors in the provinces are receiving discounts of VND1,000-2,000 per bag to cover transport costs.
 
Nguyen Van Viet, deputy director of Duc Toan Company - a cement distributor, said cement currently is not selling well.
 
He said his company sells cement to construction material shops at VND64,200-65,000 per bag, depending on brands, and so shops can sell it at VND68,500 to generate profits of VND500-1,000 a bag.
 
The price is considered too high if they sell it for more than VND70,000, he added.
 
According to construction contractors, secondary dealers are colluding to raise prices.
 
Cement producers suffer from "indigestion"
 
A leader of the Vietnam Cement Industry Corporation said there won't be a shortage of cement till the end of this year. Therefore, shops that raise their prices unusually have to be penalized strictly. 
 
He said cement supplies have soared to approximately 10 million tons above demand, while sales have increased by only 1.8 million tons so far this year.
 
Worrying that there will be a cement surplus, the Ministry of Construction has recently asked some cement joint venture companies including Nghi Son, Chinfon Hai Phong and Phuc Son, to find swiftly markets to export cement.
 
However, companies have worried that exporting would be difficult because besides Laos and Cambodia, which have imported rather little cement from Vietnam, they have failed to find new importers that are large and stable enough to be reliable trading partners.