Party General Secretary Nguyen Phu Trong has congratulated businesspeople nationwide on the 11th Vietnam Entrepreneurs' Day (October 13), assuring them all possible support for their growth.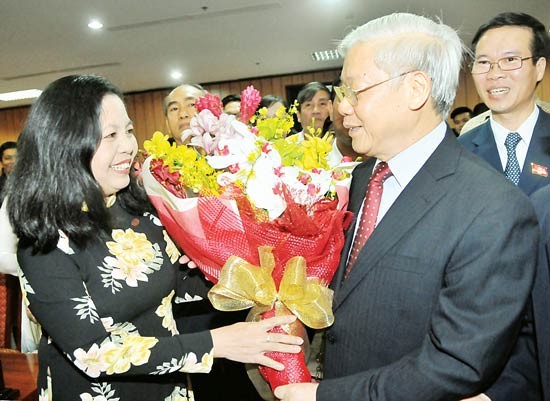 Party General Secretary Nguyen Phu Trong receives flowers from an entrepreneur at a meeting with 129 outstanding businesspeople in Ho Chi Minh City on the 11th Vietnam Entrepreneurs' Day--October 13 (Photo :SGGP)
Meeting 129 outstanding entrepreneurs recently honoured by the Ho Chi Minh municipal People's Committee and the Vietnam Chamber of Commerce and Industry in the southern metropolis on October 13, the Party chief expressed delight to meet them ahead of the 10th meeting of the municipal Party Congress for the 2015-2020 tenure.
The Party and State continually appreciate the role and position of the business community in the national construction and development, especially during the renovation, he said, adding that the community has grown in stature over time, effectively working across almost all fields, in and outside the country.
He reminded them of opportunities and challenges ahead since the country signed a series of bilateral and new-generation free trade agreements, and hoped that they would branch out into new areas and markets, create more jobs and engage enthusiastically in social activities.
Expressing understanding of their expectations, the leader assured that the Party and State advocate synchronous and more comprehensive reform with a focus on fine-tuning socialist-oriented economic mechanisms and improving the business climate.
Concluding the speech, he wished them further successes in the future.
In 2014 and first half of 2015, 129 local businesses generated a revenue of VND 650 trillion (US$29.5 billion), creating more than 155,000 jobs and contributing VND 21 trillion (US$ 954.5 million) to the State budget and VND 400 trillion (US$ 18.1 billion) to humanitarian causes.
Huynh Van Minh, Chairman of the Ho Chi Minh City Union of Business Associations (HUBA), underscored the significance of the Vietnam Entrepreneurs' Day which was launched 11 years ago, which he said, reflects the Party and State's encouragement to the contingent of domestic entrepreneurs.
The HUBA, which has gone through its 40 years, has so far grouped more than 60 volunteer affiliates with over 8,000 members.
Since October 13, 2014, thousands of outstanding businesses and business owners have been honoured, he added.
Participating entrepreneurs expressed determination to overcome challenges and play a vanguard role in the country's industrialisation and modernisation.