More measures should be taken to boost development of the private economy so that privately owned businesses can become a strong contributing force to the country's development, said Standing Deputy Prime Minister Nguyen Sinh Hung.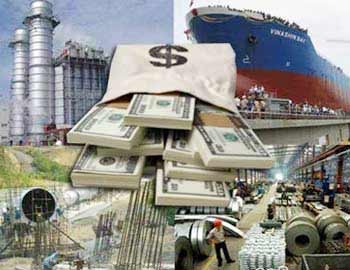 The country's private economy has grown increasingly in many fields, but private enterprises still face difficulties in renting land and obtaining bank loans. An April 6 conference in Hanoi discussed policy renovations to grant the sector more favorable conditions. (Photo: Vinasme)
He was speaking at a conference held by the Secretariat of the Party Central Committee in Hanoi on April 6 to review performances in implementing a Party resolution on renovating policies to facilitate development of the private economy.
Ngo Van Du, Head of the Office of the Central Party Committee, said, "After seven years of implementing the resolution, the private economy has grown quickly both in quality and quantity, remarkably contributing to the country's social and economic development."
Payment from the private sector to the State budget increased from 6 percent in 2002 to 11 percent in 2008, and the sector accounted for 46.97 percent of the country's GDP in 2008, he said.
Many private companies have developed into economic groups whose brand names are well known both at home and abroad, Mr. Du added.
However, the level of the private economy's development is still lower than that of other economic sectors such as business administration, and many of them have violated the law.
Private enterprises also face more difficulties than State-owned companies in renting land and obtaining bank loans.
The country expects to have 1.2 million privately owned businesses this year, and if each of these employs 12-25 workers, up to 15 million people could be employed, Mr. Hung said. 
Vietnam now has 35 million agricultural workers, accounting for 70 percent of the country's workforce. If the sector continues to develop strongly, it will create jobs for many more rural workers, helping eliminate poverty in such areas, he said. 
Regulations that are no longer appropriate for the private sector must be adjusted to boost development, said Truong Tan Sang, Politburo member and Standing member of the Secretariat of the Communist Party of Vietnam.
More measures to protect investors should also be adopted, he added.
In addition, Mr. Sang called for specific regulations to be implemented on the organization and operation of Party units at privately owned businesses.
He said regulations should be issued to remove obstacles to private investors in renting land and accessing Official Development Assistance (ODA) capital.
Mr. Sang called for investment and export credit guarantees, and said technology transfers should be offered to small- and medium-sized enterprises. Private investors should be supported in holding reasonable stakes at equitized companies, he added.
In addition, the policy on equal treatment to all economic sectors must be strengthened, said Mr. Sang.