With pharmacies in Ho Chi Minh City selling medicines at varying prices and frequently increasing them, consumers are highly disadvantaged.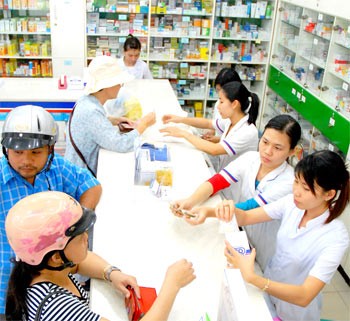 A drugstore in HCMC. Customers are bearing the brunt of pharmacies' frequent price hikes and variance in prices from shop to shop (Photo: SGGP)
A survey by students of the HCMC Medicine and Pharmacy University on both drugstores that have and have not adopted Good Pharmacy Practices (GPP) found that prices vary by 10 to 38 percent from shop to shop.

Drugs cost more at large drugstores than private pharmacies, which in turn sell at 4-10 percent higher prices than GPP stores like Eco and V-phano.

An unnamed expert said prices are lower at GPP drugstores because the companies that own them buy in bulk for all their outlets, getting higher discounts.

The Ministry of Health also allows them to import directly while others have to buy from importers.

Nevertheless, the survey showed that some GPP drugstores like My Chau, Sapharco, and Vimedimex still sell at higher prices.

So far this year medicine prices have risen many times, with sellers admitting they are unsure if all the hikes were approved by relevant agencies.

Some drugstore owners said companies used to inform them of price hikes in advance and in writing. Now, they send text message or inform verbally, they said.

Thus, they do not know if the hikes are approved by official agencies.

At a press conference, Deputy Minister of Health Cao Minh Quang blamed the price hikes on the numerous layers of go-betweens involved in drug distribution.