Construction activities normally peak during the fourth quarter of the year with a booming construction material market; however, this year the market is depressed with high unsold inventory.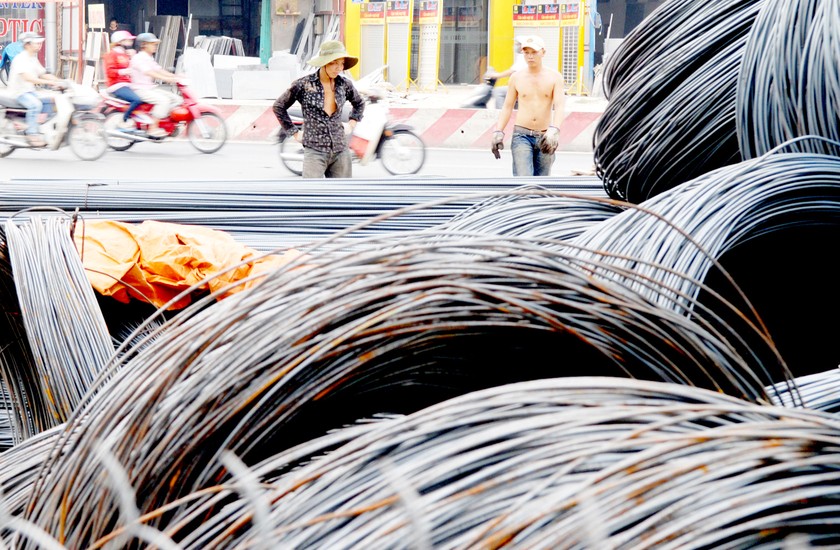 Unsold steel lies piled up at a hardware store on Nguyen Huu Tho Street in District 7 in HCMC (Photo: SGGP)
At Tien Thanh shop in Nguyen Thi Tu Street in Binh Tan District, tens of cement bags and piles of tile cartons lie unsold in stock.
Pham Thi Thanh, the owner of the shop, said that she stocked construction material since September to meet the demand during the peak season in the fourth quarter, but is now having to deal with unsold inventory.
Purchasing power is 40-50 percent lower this year as compared to the same period last year, she said.
Nguyen Van Muoi, director of Binh Son Company on Highway 22 in District 12, said that purchasing power has been lower nearer the end of the year. This condition had never been seen before in the construction material business.
A lot of companies have retrenched staff and sold trucks and other facilities to cope with heavy losses.
According to the Vietnam Construction Material Association, the inventory level for terracotta and porcelain tiles has increased by 20 percent since the beginning of the year. Four out of eight stone tile centers across the country have stopped operations, sending tens of thousands of workers without jobs.
Similar conditions also occur in the construction glass industry. Four float glass plants produce about 273,000 tons, but only 191,000 tons has been sold so far.
The inventory in cement and steel industries this year is about ten million and 300,000 tons, respectively.
Tran Van Huynh, chairman of the Vietnam Construction Material Association, said unsold conditions have been the result of the prevailing economic crisis and the government policy to curb inflation. Public investments have been reduced while several projects have been shelved due to capital shortage.
The Vietnam Construction Material Association has proposed to the government to reduce interest rates, extend deadline to pay back bank loans and provide stimulant packages. Projects built from state budget or foreign loans should consume domestic not foreign made products.