The Ministry of Finance and the Ministry of Industry and Trade have allowed businesses to increase the retail price of petrol by VND426 a liter from 8pm on June 14.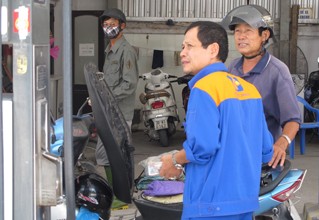 Gasoline price hiked by VND426 a liter from 8pm, June 14
A liter of Ron 92 gasoline will now cost VND23,756; the price of diesel will rise by VND221 a liter to fetch VND21,471; but Kerosene and engine oil prices will remain unchanged.
The two ministries have also lowered donation rate to the price subsidization fund from VND400 to VND300 on each liter of gasoline and diesel sold.
The donation rate has also been dropped from VND160 to VND100 on engine oil and raised from VND290 to VND300 on kerosene.
According to the Ministry of Finance, world petrol prices have been on an upward trend since May.
The price of Ron 92 gasoline was US$112.60 a barrel, diesel $117.24 a barrel, kerosene $115.43 a barrel and engine oil $610.02 a ton between the period May 15-June 13.
In order to keep petrol prices stable, the Ministry reduced petrol import tariff from 19 percent to 18 percent on May 18. Since June 1, businesses have been permitted to use the price subsidization fund to maintain stable pricing.
However, world prices have continued to move up, compelling an increase in domestic retail price of petrol.