After a fall in world price of petrol, the Ministry of Finance asked businesses to cut retail petrol prices by VND310 a liter on April 26.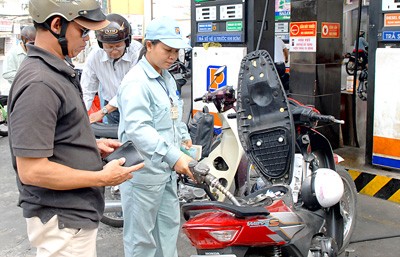 Petrol price has been reduced by VND1,200 a liter since early April (Photo: SGGP)
They also asked for slash in diesel and kerosene prices by at least VND90 and VND81 a liter, respectively.
The import tariff on these commodities has also been increased by 2 percent. The new tariff rate is now 16 percent on petrol, 12 percent on diesel and 14 percent on kerosene and engine oil.
On the same day, Vietnam Petroleum Group confirmed the fall in petrol price by VND310 a liter as per Ministry of Finance instructions, to now retail at VND23,330.
Diesel and kerosene prices dropped by VND100 to cost VND21,250 a liter and VND21,300 a liter, respectively.
This is the third time petrol price has been reduced since early April.
Earlier, at end of March, gasoline price was hiked by VND1,430 a liter to reach VND24,550.