Surging petrol prices since early this year are causing much inconvenience to transport companies in Ho Chi Minh City and almost bringing some to the verge of bankruptcy.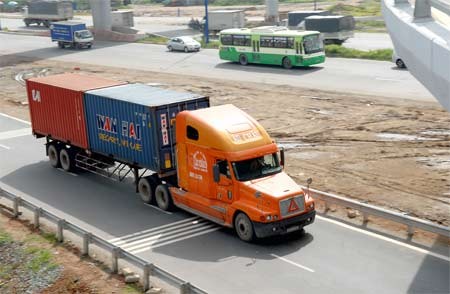 The cost of transport is expected to rise following a hike in petrol prices on March 29 (Photo: SGGP)
Retail petrol prices were further hiked for the second time this year by VND2,000 to VND21,300 per liter on March 29.
 
With the first increase on February 24, the prices jumped by VND2,900 to 19,300 per liter.
 
The petrol price hike has created much pressure on transport firms, since fuel costs account for 40 percent of their expenses.
 
Dang Duc Tiep, director of Dang Tien Transport, Trading and Services Co., Ltd., said his company had already signed contracts to transport over 15 containers of goods and the transportation of these will finish in two days. Because of the huge price difference and very short space of time between the two price hikes, the company has failed to negotiate with customers for higher transport charges.  
 
As a result, the company has incurred a loss of over VND500,000 per container, he added.
 
A manager from the Minh Thanh Transport Company said that with the first price hike in late February, member companies of the HCMC Goods Transport Association agreed to raise transport rates by 20 percent, but until now, many of their customers have not accepted the new rates.
 
Therefore, it will be hard for transport companies to hike transport rates again following this second price hike, the manager added.
 
According to the association, the concurrent hikes in power and petrol have pushed prices of spare parts and other expenses by 15-20 percent. In addition, high lending interest rates and high wages paid to drivers have also caused a continuous hike in overhead costs.
 
To survive, transport enterprises have to raise their transport rates and so customers are the ones who will suffer from the hikes.
 
Ta Long Hy, chairman of the HCMC Taxi Association, said that taxi firms have had a tough time managing to pay their bank debts on a 20 percent lending interest rate, while the petrol price hike has been an added headache.
 
He added that many taxi firms have hiked their charges by an average of 12-15 percent.
 
With the new petrol price hike, goods transport firms have had to increase their charges by 10-18 percent to be able to continue their operations.
 
Many passenger transport service providers at the Mien Dong Coach Station and Mien Tay Coach Station have already raised their charges by 15-20 percent, while earlier the charges were hiked by 10-15 percent due to a hike in goods prices.
 
The HCMC Goods Transportation Association stated on March 30 that it will hike transport rates by 8-10 percent and called upon its member companies not to take advantage of the petrol price hike to make profits, but they should understand and share the difficulties with the society.
 
In order to earn profits, the taxi association has asked relevant agencies to lower value added tax (VAT), but so far, their proposal has not been accepted.
 
Meanwhile, many goods transport enterprises have asked for a reduction in road tolls and toll fee stations.