The Ministry of Finance and the Ministry of Industry and Trade yesterday afternoon announced VND300-500 increase in the prices of petrol products since 3 p.m.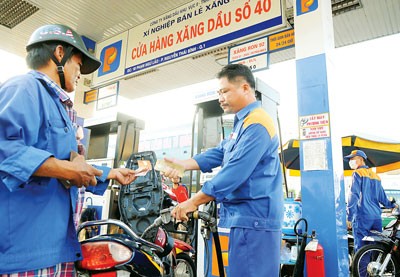 Petrol price increases VND300-500 a liter from 3 p.m. on February 18th (Photo: SGGP)
Ron 92 gasoline hiked VND504 a liter to VND18,098 while E5 bio blend moved up VND496 a liter to VND17,818.
 
Oil products surged from VND100-300 a liter. Specifically diesel price was up VND283 to VND14,305, kerosene up VND238 to VND12,758 a liter, mazut oil up VND117 to VND11,323 a kilogram.
 
The two ministries also decided to increase the price subsidization fund's spending by VND300 a liter to keep the mineral and bio gasoline prices stable.
 
That was the first petrol price increase this year. Ron 92 price remained unchanged at VND17,590 a liter while oil products lightened in the three previous changes.
 
In the world market, Ron 92 price averaged US$68,065 a barrel for the last 15 days, diesel was $66,574 a barrel, kerosene $66,105 a barrel and mazut $322,682 a ton.