The prices of petrol and oil have been reduced by VND1,000 per liter to VND17,000 (US$1) for petrol and VND18,000 for oil as of 10 a.m, Wednesday. This is the second time a price reduction has been made since Aug. 14.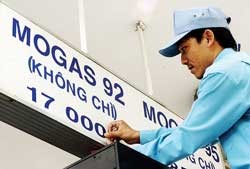 Petrol price has been reduced for the second time since Aug. 14
Sai Gon Giai Phong had a talk with Mr. Tran Xuan Ha, deputy minister of finance, regarding this issue.
Reporter: Could you give your comments on the recent reduction in domestic fuel prices?
Mr. Ha: With a view to restraining inflation, the government has for a long time kept fuel prices unchanged despite the rise in world prices. As a result, the state budget had to make up for the losses due to differences between domestic selling prices of fuels and their import prices. Over the past seven months, the state has spent more than VND14,000 billion (US$850 million) making up for the loss. Therefore, local fuel prices have to be raised to cut down the losses.
Recently, local prices of petrol and oil have been reduced following declines in world oil prices. However, such reductions should be made step by step so that businesses can gain profits in compensation for their previous losses.
Even in the case oil world prices are maintained at a rate that enables petrol and oil businesses to gain a profit of VND1,200 -1,400 per liter, it takes from now until the end of the year for the government to make up for previous losses.
Q: Why are price reductions made only for petrol and oil, but not for mazut and diesel?
A: The trade of petrol and oil has recently gained a profit, but mazut and diesel are still sold at a loss, so a price reduction has yet to be made for them. Prices of the two items will be regulated properly in accordance to market developments.
As for petrol and oil, when the world oil price was at US$115-120 per barrel, fuel businesses could have gained a profit of VND2,000-2,400 per liter if they had sold them at the same time. However, the actual profit was less than that, because, according to regulations, businesses have to reserve fuels at least 20 days before selling them.
Q: Are adjustments to petrol and oil prices within a short time a result of poorly done market forecasts?
A: According to regulations, compulsory reserve of fuel is necessary to ensure the energy supply for the economy.  Therefore, despite a high rise in oil prices in the world market, our companies have to purchase petrol and oil to meet the need of compulsory reserve. On the contrary, when world prices decline, it is hard to raise reserve due to difficulties in warehousing and financial ability.
Q: If the world oil price continues to decline, what will we do to regulate local fuel prices?
A: The government has in principle approved a plan submitted by the ministries of Finance, and Industry and Trade. According to the plan, if the world oil price continues to decline, an increase in taxes on imported petrol and oil will be considered. In case the world price of oil is around US$110 per barrel, tax on imported petrol and oil may be raised to 5 percent from 0 percent. If the world price of oil declines at a higher rate, we will consider a reduction of local prices of petrol and oil. If the world price rises, local prices will rise correspondingly.
Transport companies asked to lower charges
Many transport companies claim that a reduction of VND1,000 in petrol and oil prices is not enough for them to lower transport charges. In response to their claims, Deputy Minister of Industry and Trade Do Huu Hao said that this reduction can help cut transport fees by 5 percent. For the benefit of consumers, the ministry would issue a document asking transport companies to adjust their charges. There is no reason for transport fees to be kept high when fuel prices have been reduced, he said. Inspections will be made to find and deal with transport service providers that do not reduce their charges, he added.