After retail petrol price rocketed by VND1,950 touching VND19,230 a liter on Tuesday, many transport businesses have prepared to increase their fares.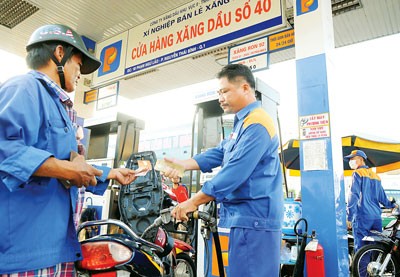 Retail gasoline price has been increased by VND1,950 a liter since May 5 (Photo: SGGP)
Hanoi Taxi Association Chairman Do Quoc Binh said that the association would hold a meeting with its members to recalculate business projects as well as taxi fares on Thursday.
Some other firms in the north said that they would increase the fare to accord with the petrol price hike as they have already lowered it by 12-15 percent since last year because of continuous petrol price cuts.
The petrol price has moved up over VND4,000 a liter since the beginning of this year, Mai Linh would collect drivers' opinions before adjusting the fare, revealed  the company chairman Ho Huy.
Members under Ho Chi Minh City Taxi Association might recalculate costs and change the fare to suit the highly surged petrol price this time, said the association chairman and deputy director general of Vinasun Company Ta Long Hy.
Meantime, Secretary of the HCMC Cargo Transport Association Thai Van Chung forecast that freight rates would be steady because the price has accelerated for only gasoline not oil. Most cargo transport means run on oil.
In related news, the Ministry of Finance's Price Management Department on the same day provided some information clarifying the petrol price increase of VND1,950 a liter by the Ministry of Finance and the Ministry of Industry and Trade.
During the 15-day period from April 20 to May 4, the world petrol price suddenly rocketed over average price in the previous 15-day period ending on April 13, said the department.
Therefore, the two ministries have permitted wholesale businesses to use an extra of VND446 from the price subsidization fund taking the total to VND1,437 a liter in order to raise the retail price by only VND1,950 instead of VND3,300.
Besides the fund, they have simultaneously cut import tariff to keep diesel and mazut prices unchanged at VND15,880 a liter and VND12,650 a kilogram respectively.