The cost of gasoline will continue to rise from November 20 by VND500-1,000 a liter, the Ministries of Finance, and Industry and Trade said November 19.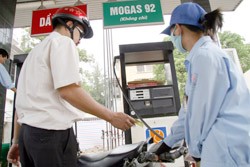 A liter of gasoline now costs VND16,300 (Photo: Thanh Nien)
A liter of gasoline will increase VND800 to reach VND16,300, while a liter of diesel oil moves up VND1,000 to VND15,200.
Kerosene and engine oil will also rise by VND1,000 and VND500 respectively to a cost of VND15,200 a liter and VND12,600 a kilogram.
The ministries said that world petrol prices have gone up by 7-10 percent over the past 20 days causing the domestic price resurgence.
Local businesses reported suffering losses of VND500-900 per liter of petrol before the price increases.