For the fifth time in less than a month, retail petrol prices are set to fall again.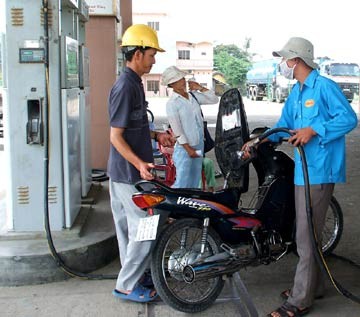 At a filling station
The Price Management Agency under the Ministry of Finance yesterday said retail petrol prices nationwide fell by VND 1000 as of Nov 8.
This is an unexpected development considering previous announcements had the impending decrease at VN D500.
The Ministry of Finance has also decided to raise the import taxes on all kinds of petrol and oil.
The import tax on petrol will increase to 20 percent from the current 15 percent; and on kerosene to 15 percent from 10 percent.

The new tax rates will be applied to customs declarations from Nov 11, 2008.
With the latest fall in prices, A92 petrol will be sold at VND14,500/liter, A92 petrol at VND14,000/liter, 0.05S diesel at VND13,000/liter and Mazut at VND10,500/liter.
World oil prices are currently at under US $60/ barrel.