The Viet Nam National Oil and Gas Group (PetroVietnam) has increased efforts on several projects, both inside and outside the country, to help curb a shortage of oil and gas.
 
$4.5 billion is pumped into gas industry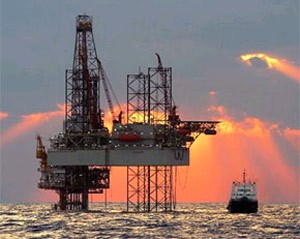 PetroVietnam has increased efforts on  several projects to curb a shortage of oil and gas
Viet Nam has the potential to produce over 2 trillion cubic meters of gas, but only 400 billion cubic meters have so far been assessed for production.
 
Petroleum experts forecast this year's supply of raw gas will be short 0.4 billion cubic meters, and the shortage will reach 1.8 billion cubic meters in 2010. The Southern area will face the most serious shortage.
 
In order to overcome the deficiency, PetroVietnam is planning to import raw gas from Malaysia and Indonesia.
 
Locally, the group is speeding up construction of a gas pipeline from Phu My to supply Ho Chi Minh City, and another one from Block B to O Mon in Can Tho Province.
 
Additionally, PetroVietnam has asked its gas company to bring 100 percent of exploited gas, and 6.1-9.1 trillion cubic meters of carbon dioxide to the shore per year from 2007-2010. The Group will invest US $4.5 billion in the gas industry.
 
Buying foreign oilfields
 
Tran Ngoc Canh, PetroVietnam general director, said the country is short 1.5 million tons of oil this year because the group wasn't able to buy a US$2-billion oilfield in Kazakstan.  The comany had expected to drill 1 million ton per annum in the Kazakstan field.  
 
The state of some local oilfields, like Phu My 3, Ruby, Rang Dong and Dai Hung, is very complicated to exploit, he added.
 
However, in order to ensure stable oil supplies in the future, PetroVietnam and its partners boosted production so that oil reserves of the past nine months increased to 33 million tons, hitting the year's target.
 
Dinh La Thang, Head of PetroVietnam Management Board, said the group has signed six local contracts and three foreign contracts since early this year, more than ever, and two foreign partners have recently discovered crude oil in Dong Do and Bao Vang fields.
 
The group has failed to buy foreign oilfields, but will try again, Mr. Thang added.
 
PetroVietnam is purchasing a company in Kazakstan that owns a few oilfields, which have dozens of millions of tons of oil.
 
It has also reached agreements to buy oilfields or set up a joint venture with oil exploiters from Venezuela, Tuynidi, Angola and Iraq.
PetroVietnam reported that the group earned total revenues of VND143.1 trillion (US $8.94 billion) in the first nine months of this year, representing 85 percent of the 2007 target and a year-on-year increase of 104 percent.
The company pumped out 16.94 million tons of oil, including 11.94 million tons of crude oil and 5 billion cubic meters of gas, making up 68 percent of the year's needs.