Businesses from the Philippines met at a seminar in Ho Chi Minh City yesterday, October 16, to discuss investment opportunities in Vietnam.
The seminar titled 'Vietnam-Destination for Investors' aims to help businesses from both countries to strengthen cooperation and promote effective implementation of bilateral economic agreements.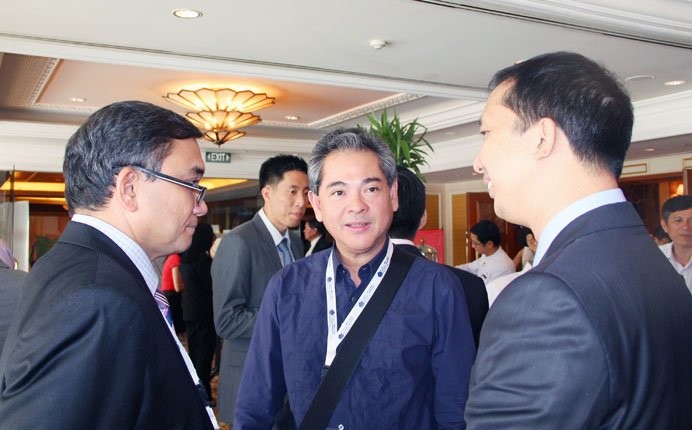 Philippine and HCMC businessmen discuss during a break at the Trade and Investment Conference at the Sheraton Saigon Hotel HCMC. (Photo: TBKTSG)
Le Manh Ha, Vice Chairman of the People's Committee of Ho Chi Minh City, said bilateral trade has developed well in many fields and there have been regular direct dialogues that have benefitted both sides.
He pledged to create the best conditions for foreign businesses to operate in HCMC.
The Philippines ambassador to Vietnam, Jerril Santos, said that his country currently ranks 27th among Vietnam's foreign investors with many large firms having invested nearly US$300 million.
He said that in HCMC alone, Filipino businesses are involved in 26 projects with a total investment of $46 million. The two countries should tap their full potential for trade and investment cooperation, especially in agriculture, he added.
Other delegates at the seminar also highlighted prospects for Vietnamese and Filipino businesses to cooperate and utilize their advantages in human resources and food processing.
While attending an investment workshop on October 16, Manny V.Pangilinan, chairman of Maynilad business group of Philippines, paid a courtesy visit to meet Le Hoang Quan, chairman of the City People's Committee.
During the talks, Chairman Quan expressed appreciation of Maynilad group's projects in the field of water supply and wastewater treatment in Manila and many other areas in the Philippines, and said the conditions were favorable for cooperation between HCMC and the Maynilad business group.