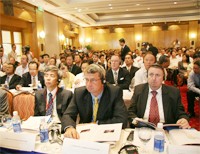 In the investmnet conference
Ho Chi Minh City and Kien Giang Province jointly held a conference to call for investment into Phu Quoc Island of Kien Giang at the New World Hotel on May 9.
Mr. Thai Dac Liet, Director of Kien Giang Department of Planning and Investment said the province authorities would offer incentives to investors.
According to him, investors will enjoy a 50 percent reduction of land rent or remission from 11 to 15 years; foreign investors are allowed to buy houses or to lease land for a long time at the same one price offered to Vietnamese.
Especially, overseas Vietnamese are eligible to buy houses with land use rights; investors will enjoy the business income tax rate of 10 percent, maximum tax exemption in 4 years, reduction of 50 percent on tax in the next nine years and reduction of 50 percent on individual income tax, etc.

The Best Investment Environment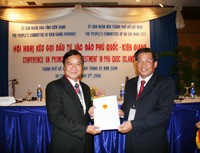 Mr. Bui Ngoc Suong gave investment license to an investor.

In the conference, over 180 investors registered to invest in Phu Quoc Island and Kien Giang Province's authorities also granted the investment license to over 10 investors with the total investment capital of about VND9,535 billion on an area of 1,140 hectares. Most of these projects aim at the construction of tourist areas in Phu Quoc.
Mr. Truong Quoc Tuan, secretary of Kien Giang Party Committee, said the Government allowed Phu Quoc to apply the best preferential policies to all forms of investment by Vietnamese and foreigners.
Besides, Phu Quoc will also apply surpassing preferences in the mechanism of investment management, foreign entry and exit procedures, residence status, land prices and tariffs.
The province leaders undertake to create the best conditions for investors and enterprises to Phu Quoc and continue to license investment, land allotment, capital borrowing, reforms of administrative procedures with the one-door policy, Mr. Tuan added.
The One-Door Policy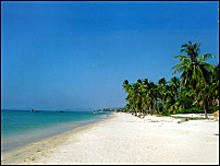 Phu Quoc Beach
Mr. Bui Ngoc Suong, Chairman of the People's Committee of Kien Giang province, answered more than 20 questions and suggestions which were sent by investors.
He said that Phu Quoc is waiting for the government's approval of the 1/2000 detailed plan which is expected to be finished in the end of 2006. Then, the province authorities will organize another investment conference to answer the specific questions not responded in this conference.
Now, the province leaders have submitted the establishment projects of Phu Quoc island's investment and developing management board to the government for the final approval of investment and business in accordance with the one-door policy. Two representative offices will be built in Ha Noi and Ho Chi Minh City to shorten investors' time of application.
As for the construction of the international airport, Mr. Nguyen Nguyen Hung, director of the Southern Airport Authority said the runway with the length of 3,000-3,200 meters and the width of 45 meters will start in 2008, able to serve all current aircrafts, but the A320.
The current airport serves four flights (fewer than 100 passengers) per hour. In case of need Viet Nam Airlines will increase more flights to serve passengers.
HCMC and Kien Giang Cooperation
Ho Chi Minh City People's Committee and People's Committee of Kien Giang province have just signed an agreement about the socioeconomic development cooperation in the period of 2006-2010.
"Ho Chi Minh City's authorities will encourage enterprises to invest in Kien Giang Province", said Mr. Le Thanh Hai, chairman of the People's Committee of Ho Chi Minh City.

In metropolitan management and development, the authorities of the two sides will draw much capital to invest in projects of the new cities in Rach Gia, Ha Tien, Kien Luong and Phu Quoc Island.
Besides, both will also associate to train technical and scientific human resources in the fields of software and processing technology.
.