Toan Hai Van Joint Stock Company, a major shareholder of Toan Thinh Phat Architecture Investment Construction Joint Stock Company, began construction on the Vinh Dam project in Kien Giang Province's Phu Quoc District last week.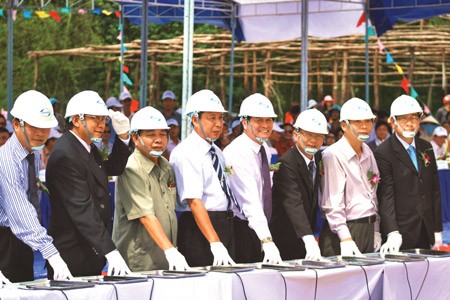 Leaders of Kien Giang Province and investors start the Vinh Dam Project. (Photo: SGGP)
The project, which includes a cargo port, industrial zone, traditional trade village, entertainment area, resort, restaurants, and public services, will cover an area of 350 hectares.
It is funded with VND1.2 trillion and is divided into three stages, set to be finished within five years.
The first stage of the project includes the cargo port and logistics services, which will be finished in the second quarter of next year. In the second stage, an industrial zone complex and a traditional trade village will be built. The remaining public and tourism services are set for completion in the last stage of the project by the end of 2015.
According to Huynh Phu Kiet, chairman of the Directors Board of Toan Thinh Phat Company, Vinh Dam will ensure a year-round supply of materials for construction on the island, as well as a supply of goods for island residents and tourists. Vinh Dam Port will also help to reduce shipping costs, leading to a lower cost of services on the island.
In addition, an industrial zone complex will promote many local traditional industries.
Nguyen Thanh Son, deputy secretary of the provincial committee of the Party, said the Vinh Dam project will foster two-way trade between Phu Quoc Island and the mainland, as well as with neighboring countries.