Italy's Piaggio received a license and broke ground today for a US$45-million scooter plant in the northern province of Vinh Phuc.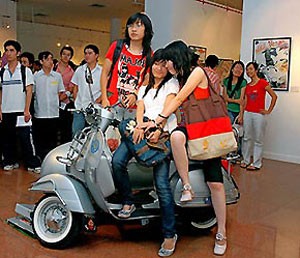 Vietnamese youth are great fans of Piaggio scooters
The factory will occupy eight hectares of Binh Xuyen Industrial Park in Binh Xuyen District and should be up and running by the middle of 2009.

Piaggio plans to manufacture 50,000 machines a year for local sale and export initially, and double that number later on.
"We want to expand to Asia by building plants in Viet Nam and India as part of our three-year plan," Piaggio's chief executive Roberto Colaninno is quoted by Reuters as saying at a press conference in March.
"The markets that we plan to develop according to our business plan are Viet Nam and Brazil. Although we already sell some scooters in Viet Nam, we are looking at establishing a sales network in the country," he added.
A provincial official told Vietnam Economy today that though the project was not big in terms of capital, it held great significance as it was the first in Vinh Phuc by a company from the European Union.

"We want to catch more EU investors," he said.
Piaggio has had a presence in Viet Nam since 1996, when it opened a representative office in Ha Noi.
Of the 650,000 bikes made by Piaggio last year, 200,000 came from the company's joint venture in China.
The Pisa-based firm, established in 1884 by Rinaldo Piaggio, has several popular makes on Vietnam's roads, namely Piaggio, Vespa, Gilera, Moto Guzzi and Aprilia.