The discovery of banned lean-meat substances in pork have caused immense losses to many breeding farms in the southern province of Dong Nai, especially the pig-breeding farms, according to the Dong Nai Livestock Association on April 17.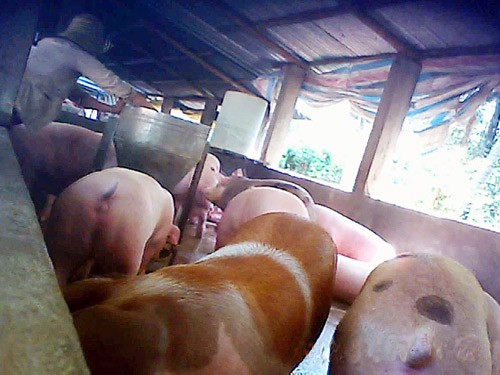 Pigs being fed on banned lean-meat chemicals at a farm in Dong Nai Province (Photo: Thanh Nien)
The damages to the breeding farms are estimated around VND500 billion, due to fall in pork prices in markets throughout the country.
Dong Nai Province has 1.2 million pigs being raised in 1,261 farms, with 4,000 pigs being sold each day. After news spread that pigs are being fed with banned chemicals, customers stopped eating pork, which caused a sharp drop in pork prices throughout the country.
Currently, the price of live pigs in HCMC and surrounding areas has dropped by VND10,000 (US$ 0.48) per kg to VND42,000 per kg, a loss of VND5,000 per kg for pig-breeders.
Pham Gia Hai, chairman of the Standard and Customers' Right Protection Association in Dong Nai Province, said concern has grown among customers and their rights are seriously being encroached when they pay for substandard produce. Consequently, he proposed a harsh penalty on illicit breeders to protect customers' rights.
Recently, test results from 33 pork samples from 12 breeding farms in Thong Nhat and Trang Bom Districts contained banned substances.
Banned lean-meat agents such as salbutamol, chlenbutarol and ractobamine belong to the group of beta-agonists, which stimulate growth and quickly develop lean meat in cattle. Since 2002 these have been banned in Vietnam because of harmful side-effects on humans.