Prime Minister Nguyen Xuan Phuc has asked ministries and sectors to work together to build growth scenarios for each sector and field and report to him every quarter, towards realising the targets of a 6.7 percent growth and 4 percent inflation in 2017.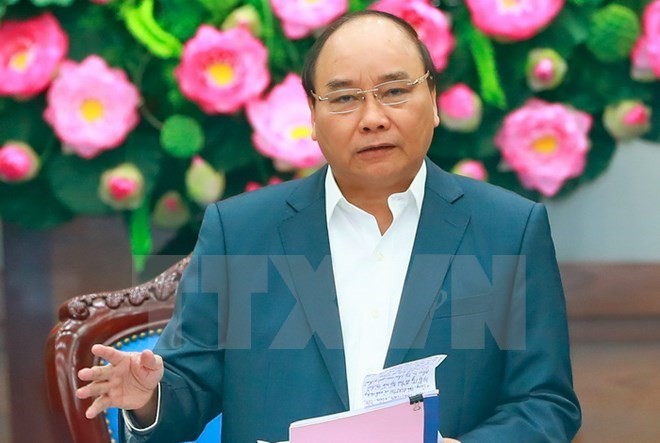 Prime Minister Nguyen Xuan Phuc speaks at the meeting (Source: VNA)
The PM made the instruction at February's regular cabinet meeting in Hanoi on March 1.
According to a report from the Ministry of Planning and Investment, industrial production showed signs of decline as the industrial production index increased only 2.4 percent in the first two months of this year, much lower than the 6.8 percent growth in the same period last year. 
The national retail value of goods and services rose 8.7 percent, also lower than the 9.3 percent rise one year ago. Budget collection fulfilled 11 percent of the target set for the year, dropping by 17.7 percent year on year.
The good news was that export turnover recorded a good yearly growth of 15 percent, hitting US$27 billion.

The number of newly-established enterprises increased by 3.9 percent to around 14,500, with a total registered capital of VND152 trillion (nearly US$6.69 billion). The number of tourists also registered a 33 percent growth.

February's consumer price index (CPI) increased 0.69 percent compared to December last year.
PM Phuc was of the view that the socio-economic growth pace is basically positive despite low increase or even reduction in some sectors or products.

He stressed the need to ensure stable macro-economy, curb inflation and maintain economic growth, calling for more drastic efforts to realise set goals for the year.

The PM asked the State Bank to work with relevant ministries and sectors to control inflation at 4 percent, ensure the liquidity of credit institutions, and support enterprises in accessing loans.
He also reminded the bank to early build an assistance package for high-tech agriculture with a minimum capital of VND100 trillion ( US$4.4 billion), and pay more attention to the settlement of bad debt and restructuring of inefficient commercial banks.
The Ministry of Finance was requested to keep public debt at a safe level, and prevent transfer pricing, whilst the Ministry of Industry and Trade was asked to roll out measures to stimulate the retail market, promote consumption and solve difficulties for industrial sectors.