Prime Minister Nguyen Tan Dung has ordered concerning ministries to help push up production of goods to ensure market stability for the upcoming Lunar New Year (Tet) holiday.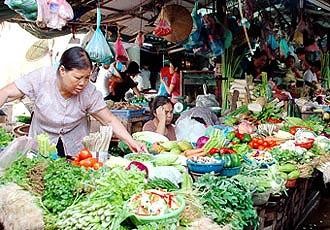 To curb price hikes during the busy Lunar New Year (Tet) holiday, the PM has ordered ministries to help increase goods production and monitor sales.
In a recent dispatch, the PM ordered ministries to take action after several recent natural disasters in the central and Central Highland regions have led to slower production of some products.
The Ministry of Industry and Trade (MoIT) was directed to stockpile ample goods, track demand and supply, and intervene in a timely manner if a shortage of necessities is detected. The measures aim to control price inflation during the busy time.
The PM also asked the ministry to impose harsh penalties on businesses making fake or low-quality items, or those engaged in unscrupulous selling practices.
The Ministry of Finance (MoF) was asked to cooperate with MoIT to oversee prices, especially high-demand items and nutritious food for children.
The Ministry of Culture, Sports and Tourism and MoIT were advised to hold commercial promotion fairs to encourage both residents and tourists to buy local products.
The Ministry of Health, meanwhile, was tasked with ensuring food stalls adhere to hygiene regulations. It is also responsible for taking measures to prevent outbreaks of diseases including swine flu, acute diarrhea and dengue fever.
Local administrations must closely monitor and prevent the smuggling and sale of firecrackers during Tet. Businesses caught selling such goods will face stiff fines.
Huynh Cong Thanh, director of the Food Company Ho Chi Minh City, known briefly as FOOCOSA, December 2 said 40 branches of the company would sell rice at a fixed price until Tet. Shops would open Saturdays and Sundays, Thanh added.
To widen its distribution network, the company will also sell rice at Vissan shop chains, CoopMart and other outlets citywide to serve people.