Prime Minister Nguyen Tan Dung has called on Hong Kong businesses to intensify investment and trade with Vietnam, pledging to provide favorable conditions for their success in the country.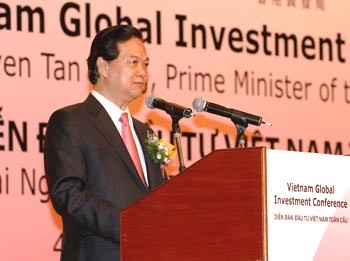 Prime Minister Nguyen Tan Dung speaks at a round-table talk with Hong Kong financial investment organizations on April 20
Addressing a round-table talk with Hong Kong financial investment organizations on April 20, right after his arrival in China's special administrative area, PM Dung highlighted the growing trade and investment between Vietnam and Hong Kong .
Two-way trade reached US$3.5 billion in 2008, surging 30 percent over 2007, and Hong Kong now has 500 FDI projects capitalized at US$6.5 billion in Vietnam.
PM Dung said the global economic-financial crisis has caused negative impacts to Vietnam's export, investment, employment, tourism and people's life.
He told the investors that Vietnam has been re-structuring the economy towards a sustainable development, with special attention paid to industries that are friendly to environment.
He said Vietnam targets a growth rate of between 5-5.5 percent in 2009 and a higher rate in the next year.
Hong Kong investors expressed their approval of the Vietnamese government's solutions to cope with the impacts from the global economic crisis, including the promotion of production and export, stimulus packages targeting investment and consumption demand, tax cuts and measures to ensure social security and reduce poverty.
They noted that Vietnam's healthy financial system and banks' good liquidity will help the country weather the financial crisis as well as attract more investment in this sector.
After the talks, PM Dung witnessed the signing of cooperation agreements between Vietnam's State Securities Commission and Hong Kong's Monetary Supervision Authority, and between the Ministry of Industry and Trade's Department of Trade Promotion and Hong Kong 's Trade Development Council.