Prime Minister Nguyen Tan Dung has urged the Vietnam Cement Industry Corporation (VICEM) to work out a concrete strategy on exports for a regional and international VICEM trademark.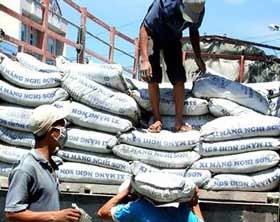 Vietnam's demand for cement has been increasing due to housing and infrastructure development
The Government leader made the call at a working session with VICEM on March 26, urging the corporation to also aim for the status of a national cement industry group.
"It was reported that 2009 will see additional 18 cement factories put into operation, capable of producing over 20 million tons a year. VICEM has therefore to take care of marketing in the vested interest of both distributors and manufacturers, thus increasing both production outputs and market shares," Dung said.
He also called on the industry to cut overheads in all production steps and promote product marketing as necessary steps to maintain profits and ensure stable incomes or wages for employees amid increasing input costs.
In order to address the industry's weaknesses revealed in low productivities and delay in a number of investment projects that have caused wastes, the Prime Minister asked the national giant to focus investments in key products, not hesitate in personnel reshuffle and apply information technology.
"For immediate future, VICEM should map out a development strategy to 2020, speeding up tempo of underway investment projects and in some cases providing financial support for those projects in need to help them meet deadlines," Dung concluded.
Dung and his deputies Truong Vinh Trong and Hoang Trung Hai all recognized VICEM's contributions to the national construction, especially its success in stabilizing prices over the past decade while continuing making high profits amidst surges in material prices such as electricity, coals and paper.
They also lauded the corporation's achievements in securing high wages for employees at 5.5 million VND per month.