Prime Minister Nguyen Tan Dung has ordered an almost complete ban on the export of rice to shore up food reserves and commercial stocks and prevent market prices from rising.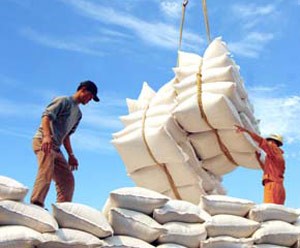 Vietnamese rice export is halted to shore up food reserves and prevent market prices from rising
In a directive sent out yesterday, Mr. Dung said natural disasters and the devastation wrought by the brown plant hopper and crop disease had taken a huge toll on rice output, forcing up prices in consequence.
 
He ordered the ministers of Trade, Agriculture and Rural Development, and Finance, city and provincial authorities, and the chairman of the Foodstuff Association to immediately suspend top rice exports except to fill government-to-government contracts with Cuba and Indonesia if their ships reached Viet Nam before November 12.
 
Other deliveries might be allowed in exceptional circumstances, but only with the Prime Minister's permission.
 
PM Dung also ordered a close watch on all food trading and said any price speculation should be severely punished.
 
The Finance Ministry's immediate task is to stabilize market prices by selling rice from the strategic reserves.
 
The Ministry of Agriculture and Rural Development as well as the provincial and municipal people's committees must take prompt action to vanquish the brown hopper plague and advise rice growers on the best preventative measures against the pests and crop disease in general.
 
In the ten months ending October 31, Viet Nam exported 4.3 million tons of rice, earning US$1.2 billion. The targeted quantity for the entire year is 5 million tons.