To ensure the efficient use of public funds this year, Prime Minister Nguyen Tan Dung has ordered the Government Inspectorate to set up an inter-ministerial inspection team to investigate several key national projects funded by the State budget and foreign loans and aid.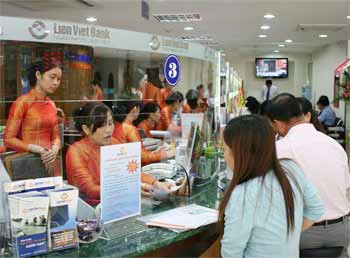 Customers perform transactions at a LienViet Bank branch. PM Nguyen Tan Dung has asked commercial banks to prioritize lending funds for key projects and follow up to ensure lending efficiency. (Photo: baocongthuong.com.vn)
The order was part of a recent directive on strengthening management over public investment and construction projects this year, particularly those in infrastructure, irrigation, health, and education.  
The planning, approval and appraisal of public projects have yet to be carried out effectively, resulting in wastefulness and loss of capital, the PM said.

Lax management and control over public projects has also resulted in increased violations of regulations on capital construction.

To rectify the problem, the PM asked all ministries and local authorities to review their 2010 plan for use of the State's development investment capital and Government bonds before publicizing them.

"State capital must be granted only to projects that meet all requirements under prevailing regulations," he said.

Mr. Dung called for relevant agencies to strengthen control over all stages of project development, particularly site clearance and compensation, to ensure a steady rate of progress and timely capital disbursement.

Agencies concerned must transfer capital from unfeasible or less-effective projects to those that need to be completed this year or next year, or to large projects that are short of capital, he said.

The PM asked the Ministry of Planning and Investment to examine the use of development investment capital in provinces and cities, remove obstacles, and punish violators who cause wastefulness or loss.

To ensure the efficiency of lending, the Vietnam Development Bank and other commercial banks must earmark loans for key projects and follow the development of those projects, Mr. Dung said.
Investment credit lines must be granted to the right projects for the right purposes and in accordance with prevailing regulations, he stressed.