Prime Minister Nguyen Tan Dung Wednesday directed the Ministry of Planning and Investment to collaborate with other ministries to study the movement of foreign direct investment from China to ASEAN countries, including Viet Nam, in order to determine how best to attract investment.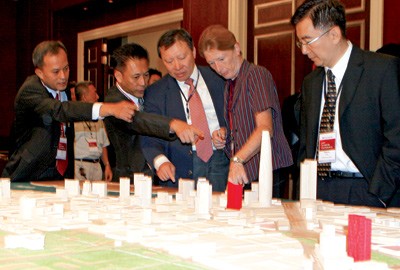 Foreign investors learn about a project in Ho Chi Minh City at a meeting of foreign investors in October 2007.

The order is part of an executive decision that also directed the ministry to analyze the domestic investment environment and compare it those of other ASEAN countries. The prime minister ordered the ministry to complete its report by the fourth quarter of this year.
The dicision said that the ministries should speed up the release of investment capital, continue to promote investment in order to lure high-quality investment and capital resources from abroad.
The prime minister directed the Ministry of Industry and Trade to plan and develop supplementary industry and to propose policies to stimulate private sector investment in supplementary industry.
According to the order, the Ministry of Natural Resource and Environment will check land use to ensure that land is used effectively, focusing on the impact of changing of farm land into industrial and economic zones and golf fields.
The Ministry of Science and Technology was directed to protect intellectual property rights and fight against brand counterfeiting. The Ministry of Home Affairs will continue to foster public administrative reform, fight against bribery and corruption, file rules to encourage the establishment of labor unions aiming at connecting training to labor use.