Prime Minister Nguyen Tan Dung has called on Vietnam Airlines to make the best of its domestic and regional markets to become a major player in the region.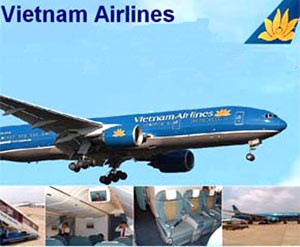 The Government hopes Vietnam Airlines will develop into a major player in Southeast Asia
At a meeting with the national flag carrier's top executives on March 25, he said the airline should maintain its routes, flights and personnel, improve fuel efficiency and service, focus on personnel training, and improve infrastructure.

The airline has to take advantage of the favorable conditions the Government has created for it and its own healthy financial situation to expand, he said.

Government ministries and agencies would review policies to improve mechanisms even further for Vietnam Airlines to achieve its goals, he said.
He cleared the airlines' proposals to purchase large aircraft, produce airplane parts, and join a global aviation alliance.
The Government appreciates Vietnam Airlines for not cutting flights despite the global economic slowdown, which has helped the country attract foreign investment, the PM said.

General director Pham Ngoc Minh said the carrier was one of the very few in the region to survive the global crisis.

It carried more than 8.8 million passengers last year and posted a profit of over VND230 billion (US$13 million) on revenues of nearly VND27 trillion ($1.53 billion).
It has set itself a target of 9.4 million passengers and a revenue of VND23.6 trillion this year, Mr.Minh said, besides expanding markets, cutting costs, ensuring security, improving service, and developing human resources.