Prime Minister Nguyen Tan Dung has asked petroleum distributors to maintain prices until June, promising the government will consider increasing them in July if crude oil rose by a further US$10 per barrel.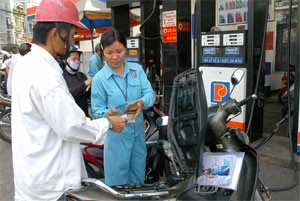 Petrol prices are asked to remain unchanged untill June
After touching US $110 recently, prices have retreated slightly to around US $100 now.
 
Since petroleum was a strategic commodity, supplies had to be maintained under all circumstances, Mr Dung said.
 
The national reserve would be gradually expanded to ensure supply and head off inflationary pressure, he said.
 
The government would keep a close eye to ensure petrol companies scrupulously followed market rules, he warned.
 
At a meeting last week with Vietnam National Petroleum Corporation (Petrolimex) and 10 other petrol importers, Mr Dung asked the Ministry of Finance and other agencies to consider a Petrolimex proposal to guarantee supply of petroleum this year, set up a fund to stabilize prices, and other measures to avoid turmoil in the market.
 
Last month petroleum retailers decided to raise prices of A92 and A95 gasoline by VND1,500 per liter to respectively VND14,500 and VND14,800 after global prices breached the US $100 per barrel mark for the first time.