The Politburo has approved a program to encourage people to consume Vietnamese-made goods to help the economy overcome its current difficulties.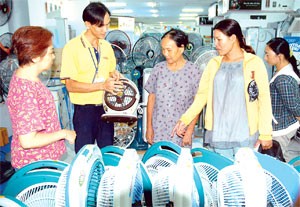 Shoppers check out locally made fans at Cho Lon Electronics Supermarket in District 5, Ho Chi Minh City (Photo: SGGP)
The program will appeal to people's patriotism and respect for their nation and promote production of quality goods that can meet both local and export demand.
 
The campaign requires
 
Relevant agencies to disseminate information efficiently to make domestic and foreign consumers aware of the products and services offered by Vietnamese firms and their quality.

People to be encouraged to use domestic goods and see it as love of the country.
Social and political organizations and agencies to use local products for public purpose.
Producers to use raw materials, equipment, and services sourced locally.
Firms to improve the competitiveness of their goods and services, commit to protect consumers' interests, and build national brands for Vietnamese goods.
Law, mechanisms, and policies reviewed and amended to protect the local market and producers while complying with World Trade Organization commitments.
Firms assisted in surveying the market, consumers, and distribution, organizing seminars, exhibitions and fairs to introduce Vietnamese goods, and establishing retail networks in rural and remote areas.
Continued improvement of the customs and tax regimes, and stringent action against quality violations.
 
The Government will establish steering boards at the central and city and provincial levels.
 
The campaign will be launched this month and reviewed every year.