Yesterday, the price of sliced pork in a number of wholesale markets in Ho Chi Minh City hit a record high of VND53,000 a kilo.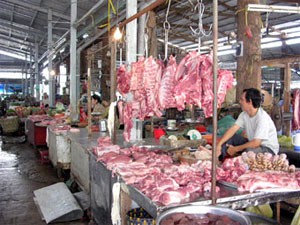 The price of sliced pork in a number of wholsale markets in HCMC hits a record high of VND53,000 a kilo

The sharp rise in the pork wholesale prices pushed up the retail value by VND4,000- VND5,000 a kilo. Specifically, pulp was sold at VND80,000 a kilo, buttock and pork side  ranged from VND68,000-VND70,000 per kilo and a kilo of rib side cost between VND78,000 –VND80,000.
Mr. Vu Ba Quang, deputy director of Dong Nai Food Processing Factory and owner of the VBQ Pig Farm, revealed that the price of live-weight pork at some farms in Dong Nai is around VND39,000 per kilo and may begin to exceed VND40,000 in a matter of days.
According to Mr. Van Duc Muoi, deputy director of the Vissan Import Export Corp., the corporation has failed to curb the live-weight pork prices from farmers which have led to the increases.
Mr. Muoi, pointed out that Vissan did raise pork prices two days ago by VND6,000 to VND66,000. However, he also highlighted that the pork should have been sold at VND72,000, meaning Vissan have incurred a loss of VND4,000 per kilo.
The amount of pork sold at markets in the city is reported to have recently fallen. Specifically, at the An Lac market, around 1,500 slaughtered pigs are sold each day, a decrease of 400 over the last month.