Today it is not difficult to find a laptop as hang xach tay (portable goods brought to Vietnam as personal belongings, and then resold tax-free) with differential prices the same model.
To make more profits, many companies bring a huge numbers of laptops as hang xach tay, offering their own guarantees, in lieu of genuine manufacturer's warranties. Some entrepreneurs open retail shops that exclusively sell goods bought and brought by individuals from foreign countries.
Although most laptop brand names have Vietnamese representatives and genuine warranties, customers still are confused regarding the quality, origins and warranty protections of laptops.
Offers prices for less than official products
Sai Gon Giai Phong Newspaper reporters asked customers to shop for laptops within the labyrinth-like marketplace. They did not understand why prices differed among shops offering the same models.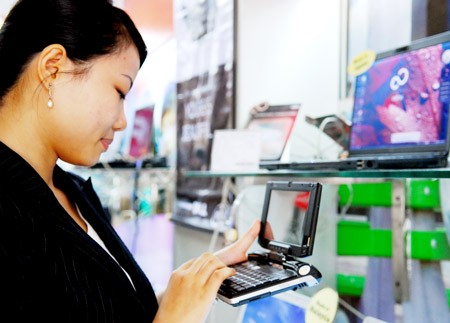 A customer at a computer shop in Ho Chi Minh City. Many computer shops sell laptop hang xach tay with differential prices the same model. (Photo:SGGP)
Specifically, the Dell Inspriron 13R-Hi is sold at Phong Vu and Hoan Long computer shops for over VND17 million (US$895), while Wonder Buy Computer Shop offers it for only VND15 million ($790).
The situation is similar with the Acer Aspire 4740-331G32Mn, sold at Hoan Long for over VND12 million ($631), while its price is VND10 million ($526) at Wonder Buy.
The variance of price is even higher for the Asus G51J-i7-720QM, sold at the Long Vu shop for VND51 million ($2,685) including tax, VND52.4 million ($2,757) at the Hoan Long shop, while the Vien Thong A shop offers the laptop at VND42.7 million ($2,247) and at the Wonder Buy shop the exact same laptop costs VND38.4 million ($2,021).
A salesman said different prices for the same model reflect the degree to which shops upgraded the laptop's RAM capacity, anywhere from 2G to 8G, boosting the price by several million VND.
The laptop is hang xach tay but it had been bought from another company, the salesman said.
Hang xach tay items are publicly sold in many places across Vietnam with prices decreased by VND2 million ($105).
In some cases, hang xach tay traders bring only laptops yet to be introduced in Vietnam, making it difficult for customers to compare prices.
A computer expert said the price of hang xach tay goods are lower because they originate from difference sources and possess various levels of quality and are untaxed.
For instance, one tour guide leads groups of over ten people who buy one laptop apiece.  The tour guide is therefore able to bring over ten computers into Vietnam, tax-free.  Laptop traders will get more profits because they do not pay tax.
Chancing on quality
Customers have to accept the risk that comes with buying laptops hang xach tay, as these laptops' warranties are not valid in Vietnam.
Nguyen Van Hung, a customer, said he believed whatever the computer salesman told him about the quality of hang xach tay, claiming it was just as good as the more expensive taxed models, so he chose the cheaper one. However, just six months later, the laptop's screen card broke. The shop repaired it for him, but broke again the next month. The shop said to him the warranty had expired, so he had to pay to have it repaired.
In some shops, if customers can purchase warranties for the hang xach tay laptops.
In addition, computer shops selling hang xach tay do not issue value-added tax invoices when selling goods.
Most electronics shops, for instance, even large and popular ones, do not issue VAT invoices, though they add the tax to their price. They only issue receipts.
In such cases, not only does the Government lose revenue, but it cannot control smuggling.