The Ministry of Transport recently convened a meeting to discuss the planning and maximum exploitation of ports and logistic services in Vietnam, looking into all the weak and vulnerable areas so as to improve the port system across the country.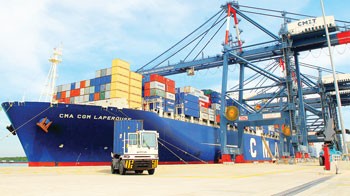 Cargo and loading at Cai Mep - Thi  Vai International Terminal in the southern province of Ba Ria- Vung Tau (Photo: SGGP)
The Vietnam Freight Forwarding Association (Viffas) said that the Vietnam Port Association (VPA) has listed 30 ports with 166 harbors and 350 wharfs in the country.
Of these, only some that were rendered operational after 2006 are equipped with state-of-the-art loading and unloading facilities. This shortage has reduced loading capacity in Vietnam to only 50 percent compared to advanced ports in other countries in the Asian region.
Fragmented investment and out-dated equipment use are a result of laws established by the ministry whereby the central government plans and the local government provides land and issues licenses, said Nguyen Van Cong, Deputy Minister of Transport.
Sometimes, coordination between the ministry and the local government is not good enough and the execution of the project suffers. The ministry must review port planning and demand project feasibility and together with the local government revoke investment licenses of projects that do not follow regulations.
Vietnam has around 800 domestic logistic companies but most of them are small businesses and only 10 percent of these companies truly provide logistic services and the remainder just work for foreign companies.
The Vietnamese logistics industry has attracted a number of foreign investors and there are currently close to 1,000 companies that have established in the country. Vietnamese companies are only able to supply simple logistic services. About 70 percent of the market share is captured by foreign companies; hence logistic services contribute little to the country's GDP.
The association says that Vietnamese logistic services have not yet fulfilled their potential. More than 90 percent of imported and exported commodities are transported via the sea and it is predicted that around 600 million tons of goods will be transported this way by 2015 and around 1,100 million tons by 2020. Total container-handling capacity through ports is as much as 15.2 million twenty-foot equivalent units (TEU) as of 2015, and 29.2 million TEU as of 2020.
Viffas adopted an emergency action to improve the logistics industry, for which the Deputy Prime Minister would be appointed leader of a committee to control all activities in the logistics industry.
First of all, the traffic system and logistic services supporting ports should be developed to provide roads, railways and seaways to all ports, especially deep water ports and international ports. Warehouse systems should be established in large ports and customs clearance sites for satisfying the import-export demand.
The southern province of Ba Ria-Vung Tau, which has the Cai Mep - Thi Vai International Terminal, can accommodate vessels of up to 150,000DWT, and must be developed into a logistic and maintenance service center for the country.
VPA and Viffas should adopt a transparent legal environment and clear policy mechanism to push up competition in domestic logistic companies.
 
Participants at the meeting said the country should strive for the sea economy to contribute around 55 percent towards the country's GDP, after petroleum and logistics.