Mai Kieu Lien, chairwoman cum director general of Vietnam Diary Products Joint Stock Company (Vinamilk), attributes her strength to simplicity in words and resolution in action.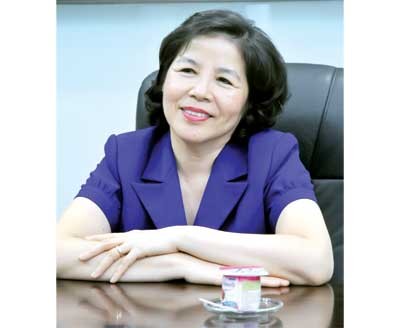 Mai Kieu Lien, chairwoman of Vinamilk, has made her company a global brand (Photo: Thanh Nien)
While several businesses are making great fuss of the hardships in the present economic crisis, Lien led Vinamilk to enter the list of largest businesses in the Asia-Pacific region with turnover of US$1 billion.
Lien says that she had anticipated the crisis and prepared measures to cope with bad times. Businesses must build a long term plan to take new initiatives in any circumstance. Every year the plan should be revised and reviewed to adapt to prevailing market conditions.
In 2012, she made an impressive decision to import material for the entire year. In order to choose the time to do that, the company's leader needed good forecast ability, experience of the market and production and trade strategies. This indispensable factor is called resolution.
That was only one of several decisions of nerves that she made in her leadership position over the last tens of years. For instance, she invited a boss of a multinational group to undertake marketing for Vinamilk because their own marketing activities were weak at that time.
To reach the current position, Vinamilk has faced strong competition from foreign milk which has been preferred over domestic products. As a result, Lien never accepts producing items that other companies have yielded much success in, but encourages new products.
She said that all products born at the company have raked in good profits. The company introduced yoghurt and ice cream for the first time in 1993, when people lined up to purchase them. They reclaimed their investment within three months.
Vinamilk inaugurated Dielac-- the first powder milk plant in Vietnam in 1987. In the beginning, their staff had to travel everywhere but still failed to sell their product because consumers just believed in foreign milk.
At present, powder milk of the company occupies 30 percent of the domestic market share and now Lien is targeting 50 percent.
Vinamilk is currently exporting its products to 23 countries in the world with turnover from Dielac powder milk alone reaching millions of US dollars a year.
Lien always demands unceasing creativity in her company in order to produce new products for the market.
At present, she pays great attention to training confidential and talented staff and managers for the company. She said that the company does not depend on any individual.
After working hours, Lien returns home to her husband and children and does housework which she said she finds relaxing. She goes swimming and practices yoga in her free time.