Investing in Laos means investing in Vietnam, Vietnamese businesses have to make long-term investments and ensure positive political, social and economic outcomes, said President Nguyen Minh Triet at a conference held in Ho Chi Minh City on August 31.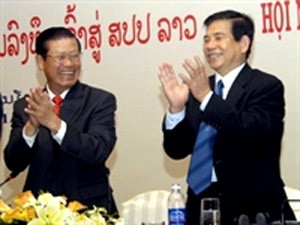 Vietnamese President Nguyen Minh Triet (R) and Lao deputy Prime Minister Somsavat Lengsavat at the conference
Vietnam's ministries should facilitate investors doing business in Laos, he said at the conference, which was aimed at promoting investment from Vietnam into its neighboring country.
Addressing the conference, Lao deputy Prime Minister Somsavat Lengsavat praised the level of investment from Vietnam into his country.
"Investments from Vietnam, together with assistance from the Vietnamese government, have made an important contribution to socio-economic development in Laos and have enhanced the Lao people's living conditions," he said.
In order to increase investment in Laos, it is necessary to publicize the Lao government's policies and procedures on investments amongst Vietnamese investors, said HCM City's People's Committee Chairman Le Hoang Quan.
Further decentralization in the granting of investment licenses should be stepped up in Laos, he said, adding that lowering a number of taxes and duties should be also considered.

Vietnamese investors said the Lao government needs to have more detailed and clear investment laws and regulations relating to land, planning and rent.
At the conference, the Laos Investment Promotion Department gave a presentation on opportunities and the investment environment in Laos, while the Vietnamese Investment Promotion Department talked about Vietnam's policy on investing abroad.
At present, Laos needs investments in agriculture and forestry sectors like growing and processing coffee, rubber and cacao, mineral exploration, hydroelectricity, tourism, hotels, hospitals and transport infrastructure.
 
Laos has been offering many investment incentives and improving tax policies to attract foreign investment.
 
So far, Vietnam has invested in 186 projects in Laos, worth US$2 billion, and tops the list of direct foreign investors in Laos.
 
A number of agreements and Memorandums of Understanding between businesses from both countries were also signed, including agreements to exploit iron ore in Sekong Province, build the Nam Kong 3 Hydroelectric Power Plant, grow rubber by Vietnam's Dak Lak Rubber Company, and purchase tobacco.